STUDIO MIRRORS (wall mounted & mobile) & CURTAINS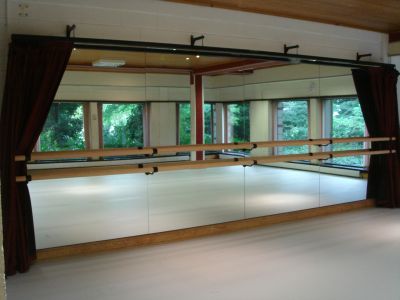 A necessity for any dance, drama & fitness studio, we provide a complete supply and installation service for both wall mounted and mobile Studio Mirrors. Our Optimax Studio Mirrors are constructed using only the best safety glass available to ensure the highest quality, distortion-free, reflective image. Optimax Studio Mirrors conform to the required British Standard. We will not offer "acrylic" mirrors as we spend much of our time visiting venues to replace their ill-advised acrylic mirrors with proper Studio Mirrors.
Our specialist installation team take great care to install our wall mounted ballet barres and mirrors at the same time to ensure a continual seamless wall of mirrror with a "floating" ballet barre (as shown above) together with curtains & sprung dance floor by Whitebox3. Whether you need just a couple of ballet barres or a complete studio fit-out, we will be delighted to help.
We provide a UK-wide service for all of our products and installations.
Curtains for Mirrors
Whilst our wall mirrors offer the clearest, high-quality reflection, we don't doubt you'd rather have your students' complete attention during lessons. Don't forget about curtains! We can easily install a curtain with your mirrors which will help to eliminate distraction during exams and other events. Offering a selection of fabrics and range of colours, we provide perimeter tracks for drama studios, stage curtains or simply light-blocking window coverings.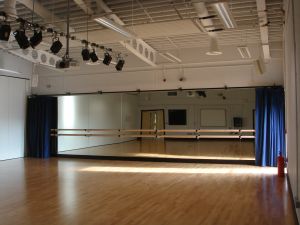 Nestaway Mobile Mirrors
Our popular Nestaway Mobile Mirrors feature a 1.82m x 1.22m (6ft x 4ft) Optimax safety glass mirror mounted onto a stainless steel frame with four rolling, lockable casters. Use individually or place multiple units side-by-side to create a seamless, uninterrupted, wall of mirror - there are no distracting black frames around the mirrors to interrupt your reflection. Should anything untoward occur to cause damage to the mirror, it will not shatter all over the floor and can simply be replaced without having to replace the entire unit. The Nestaway mirrors are heavy-duty, durable and have been designed in close consultation with professional dancers - they really are mirrors designed by dancers for dance.
Our Nestaway mobile mirrors have been specially designed to roll under a standard height door and the mirrors will "nest" together when not in use taking up minimal storage space. We take great care to deliver our mirrors personally so that they arrive undamaged and are then set-up ready for you to use.
Our new SCHOOL MOBILE MIRROR is coming soon! Watch this space.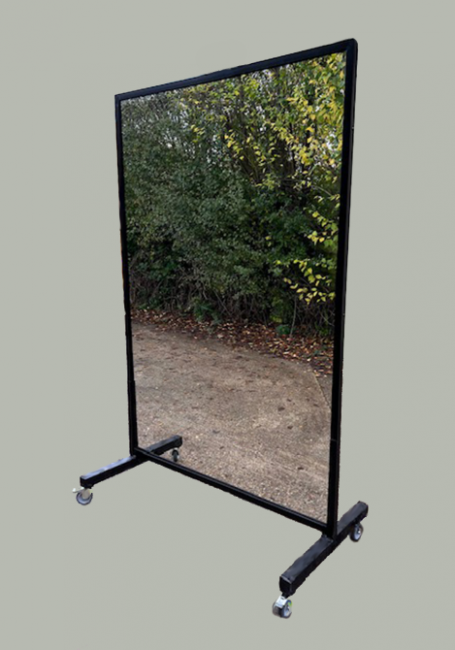 Perhaps you need a sprung dance floor or ballet barres for the studio? We can of course help with these too.
We offer a comprehensive consultancy, site survey, supply and installation service for all our Studio Mirrors, Ballet Barres & Dance Floors.
Please do call us on 01580 893889 for an initial, no obligation discussion & quotation.