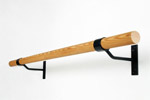 Single Ballet Barre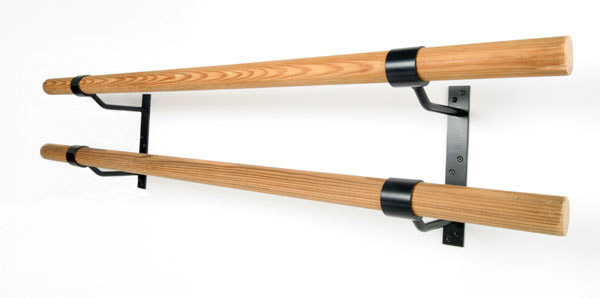 Double Ballet Barre
WALL MOUNTED BALLET BARRES
For over 20 years our popular single and double wall mounted ballet barre brackets grace the walls of countless dance studios around the world. Our brackets have been uniquely designed to produce a continuous length of barre along a studio wall with minimal interruption along the top of the barre. Available in powder-coated Black or Silver as standard or custom colours available to match your particular surroundings. Recent finishes have included: white, pink, chrome & antique bronze.
If you have a difficult fixing requirement we have probably come across a similar situation before. As we manufacture our own brackets we can easily help with any special requirements.
Single Ballet Barre Bracket Price £31.00 each plus delivery & VAT
Double Ballet Barre Bracket Price £53.00 each plus delivery & VAT
1.5m Wooden Barre (Canadian Douglas Fir) Price £40.00 each plus delivery & VAT
2m Wooden Barre Price £50.00 each plus delivery & VAT.
Alternative wood finishes or painted aluminium barres to match the brackets are also available.
"We recently purchased double ballet barres from you which are now in my new dance studio and I am so delighted with them I just had to let you know! Thank you so much." Linda Jackson, Jackson Dance Academy
FLOOR MOUNTED BALLET BARRES
This installation required the floor mounts to be designed to fit around underfloor heating pipes, be installed through a sprung floor, stand in front of windowed walls and line up with our wall mounted brackets to create a continual run of ballet barre around the studio. The floor mounts, Studio Mirrors and wall-mounted barres were carefully installed by our experienced in-house team.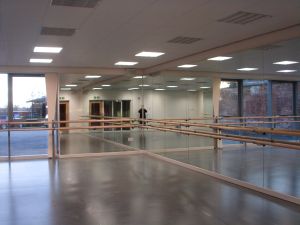 A precise installation of floor mounted and wall mounted barres, together with Studio Mirrors.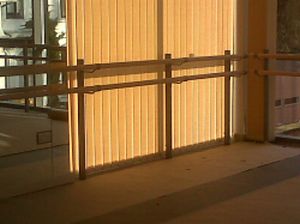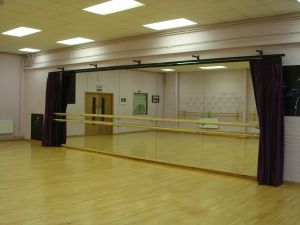 Studio Mirrors & Wall Mounted Ballet Barre, Curtains & Track. Special purple-coloured curtains were chosen to blend with the colour scheme of the studio.
Call us on 01580 893889 for a free, no-obligation discussion & quotation.